Event Details
Dates
13/05/2023 – 01/07/2023
Location
Galway Arts Centre | 47 Dominick Street
Exhibition at Galway Arts Centre – 13 May to 01 July, 2023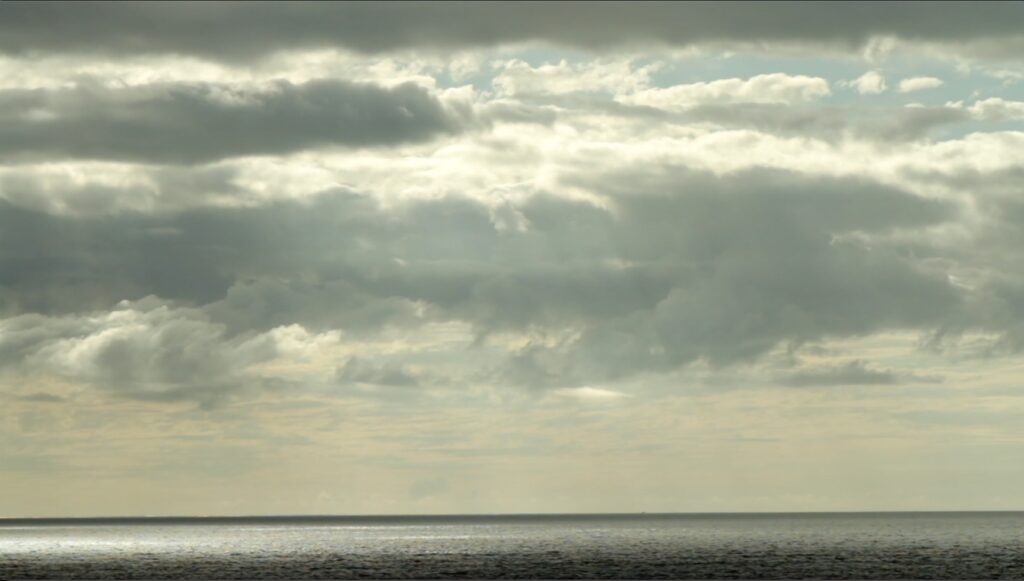 As I walked to Galway Arts Centre from where I would be staying that night in Salthill, I looked out to the Atlantic Ocean and imagined curious Drexciyans also making their way to the same location via the mouth of the River Corrib. This exit/entry point is the location  where footage for a new film by The Otolith Group, A Sphere of Water Orbiting a Star, was also filmed. On my route I also passed the Galway Atlantaquaria and thought of Drexciya (1992-2002) founder James Stinson becoming fascinated with the underwater world and his visits to the aquarium at Detroit's Belle Isle Park and it struck me again how suitable this city was for an exhibition so closely related and inspired by this electronic music group, a subject I have been writing about and around for almost 20 years now on  Drexciya Research Lab.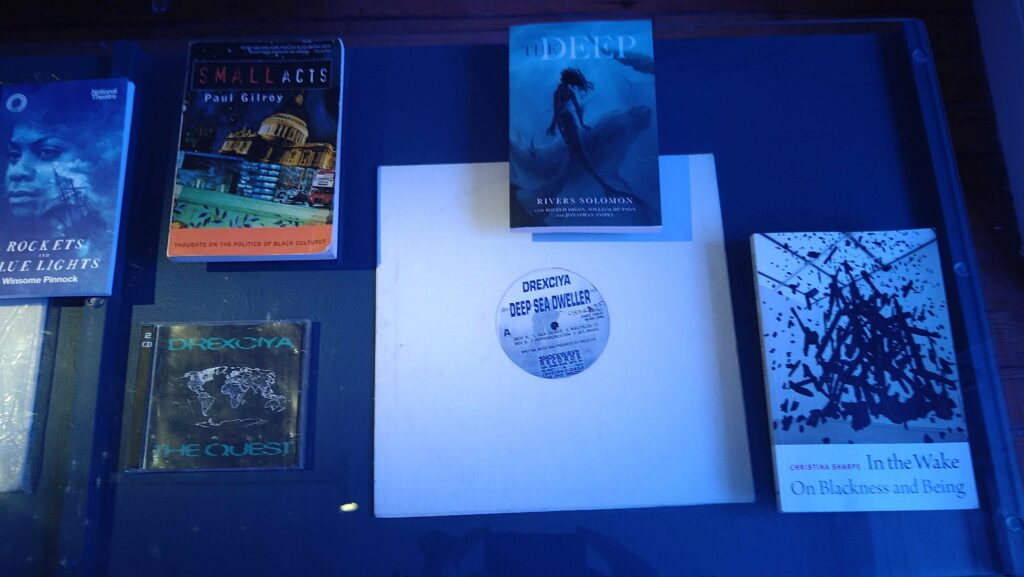 After arriving and reading the text, Fear of a Wet Planet (1998), by Otolith Group member  Kodwo Eshun, that was previously published to great influential affect in The Wire magazine, I next encountered some Drexciya records under glass and various publications relating to them and various subjects of the show. On the walls there were greatly enlarged pages from the CD booklet accompanying Drexciya's The Quest (1997) compilation  including the well known maps artwork and the foundational proposed Drexciyan origin story by Underground Resistance's The Unknown Writer (and others). I next sat down to  watch the video work Hydra Decapita (2010, 32 mins) and very soon I was again looking  at that same timeless and eternal sea/sky horizon from my walk and everything felt connected.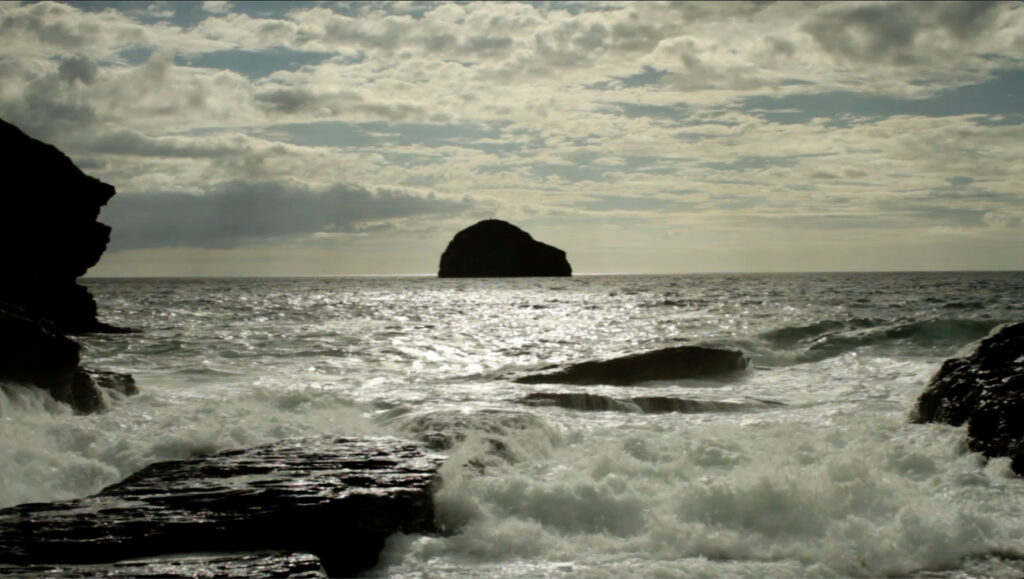 Hydra Decapita was the first time The Otolith Group focused on Drexciya and even  features the voice of the other member, Gerald Donald, billed here as Remnant of a  Hydrogen Element. It's important to read the gallery supplied background text to get a  fuller appreciation of the other subjects alluded to in the film, such as the 18th century scandal of the Zong slave ship incident where slaves were deliberately thrown overboard  by the crew so that an insurance claim could be lodged. 57 years later this inspired a painting by Turner but while powerful it doesn't depict how the slaves actually got in the  water.
It's only through court records that we know the details about it at all, as the  insurance claim was disputed. The film is a way to address what The Otolith Group call  this optical void, to mark and bring to light this shameful and murderous incident. From  what I can gather, the public response to it at the time and over the following years (along with many other factors), helped turn the tide against slavery and in so doing remade the world. How this all ties into Drexciya is that in their own origin myth via The Unknown Writer's text it's suggested that they were the offspring of pregnant African slaves thrown overboard during the slave trade. The Otolith Group sees the necro economics of the  slave trade as the birth of globalisation and made this film in the wake of the financial  crash of 2008. 
For me overall, the film was like trying to break a code, I had to listen carefully and read  the on screen texts to follow the narrative, which is very like being a fan of Drexciya. Going back to the main wall text, it struck me that Drexciya tend to inspire words and thoughts. As Eshun said in the talk, "If you're a fan of Drexciya you have a lot of work to do." This is because you have to take the scattered details of their underwater world and construct it  uniquely in your own imagination. Drexciya famously spoke very little to the press, especially in their early days but as time went on, and before he died in 2002, James Stinson did thankfully open up to some degree about his mysterious world and music. Speaking to Andrew Duke in 1999 he said, "Basically, we want people to tap into their  minds and their creativity…Instead of just laying it out there and making it dull and boring;  once you have something that is a mystery, people enjoy that more."
In the talk on the opening day, Otolith Group member Anjalika Sagar explained that it was important to them that they didn't make a figurative representation of Drexciya or try to reproduce their music as that has all been done so well by other artists on record sleeves and by the group themselves. Visually there are ghostly and abstract images of water as well as text. The  immersive nature of the sound design and composition is a key element of the film as well (even more so in their other film I will soon discuss).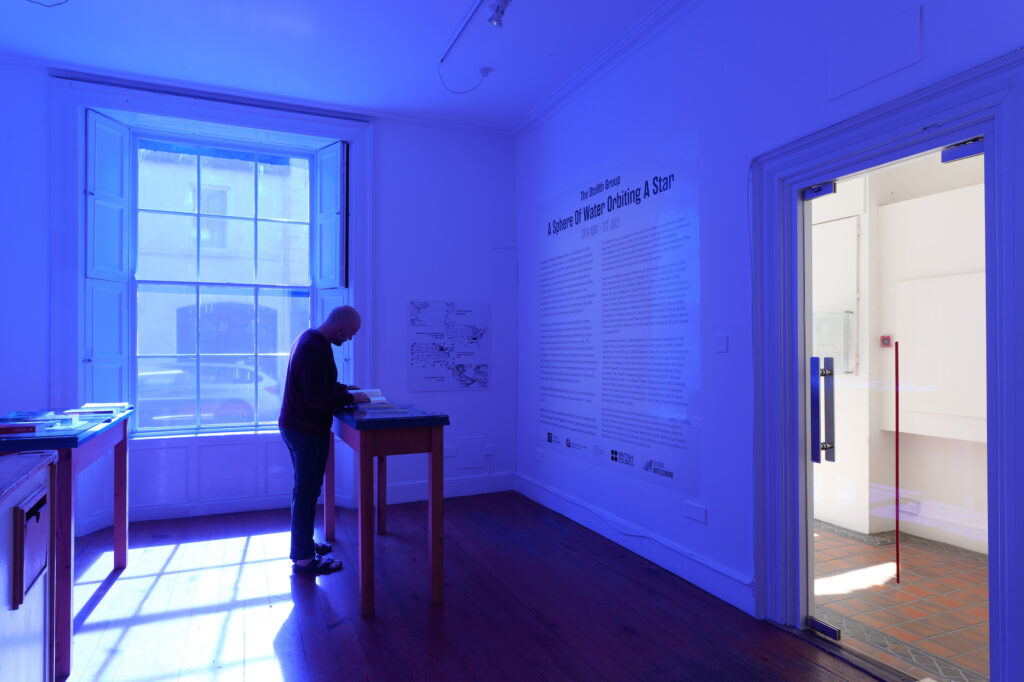 I liked how the blue transparencies in the window downstairs gave the impression of being  underwater, ascending the stairs then felt like going on the deck of a ship at night to look into space. This three roomed area contained their new video work, A Sphere of Water  Orbiting a Star (2023, 35 mins), which gives the show its title. The narration in this film  again comes from the same recorded interview/conversation between Eshun and Donald  for Hydra Decapita so there was a certain amount of overlap in places or else the two dialogues were beginning to merge for me. This film was more about the process of how Drexciya created their own concepts and mythology, what Eshun has called in the past a sonic fiction. The Otolith Group themselves describe the film as a guide to the imagination  of this normally closed world. To do this Donald is asked to free associate to Drexciya titles such as 'Beyond The Abyss', 'Aqua Worm Hole' and ' Mission to Ociya Syndor and Back'.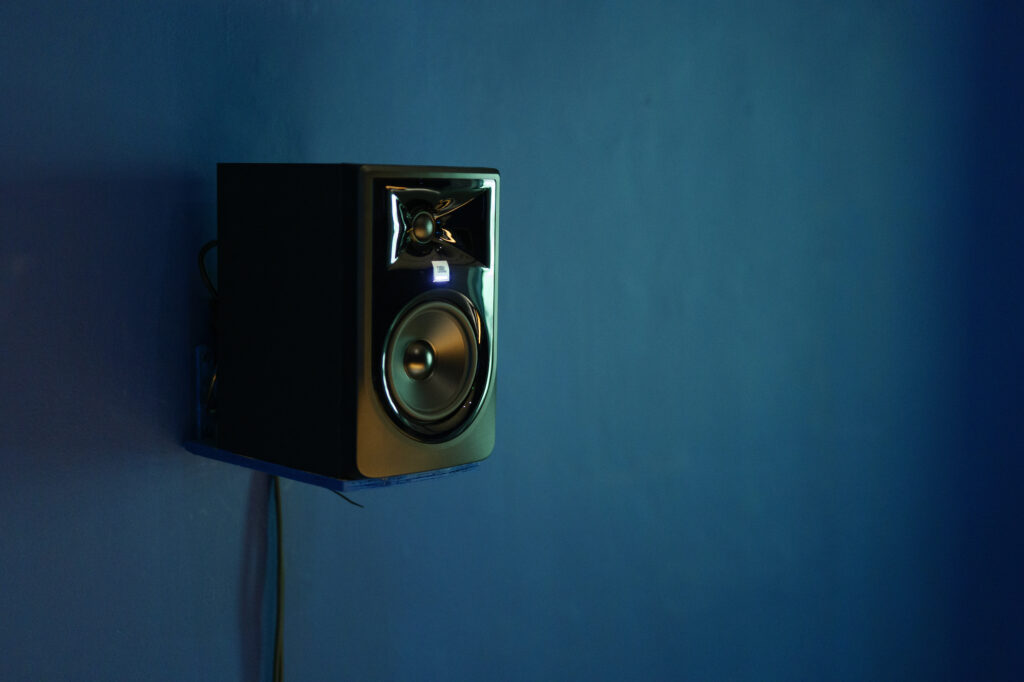 For each one he begins by explaining the title and then theorises how this might work and  goes quite deep into each concept. He is also asked to respond to the text in their final  album Grava 4 (2002). This leads to a dialogue about the Drexciya dimension being  closed and for me and those who know (or think they know) there was an unexpected  emotional punch. He doesn't have to mention it but this would be due to the death of James Stinson and Donald is asked whether this dimension might ever be reopened.  Instead of admitting the impossibility of a return from death, he appears to open the  possibility of the return of a loved one by saying that if enough energy was applied this  dimension could be reopened but admits that the amount required would probably be far  too great for us to produce and harness for such a purpose. 
One of the free associations led him to theorise about a hydrosphere and he imagines a  huge planet size sphere of water orbiting a Drexciyan star and how it could be contained in a vessel and travel through space. It's this that gives the film and show its title. The second video screen in this space with the beautiful and quite Tarkovskyesque b&w and highly  contrasted footage of the surface water from the mouth of the River Corrib seems to represent glimpses of this water world.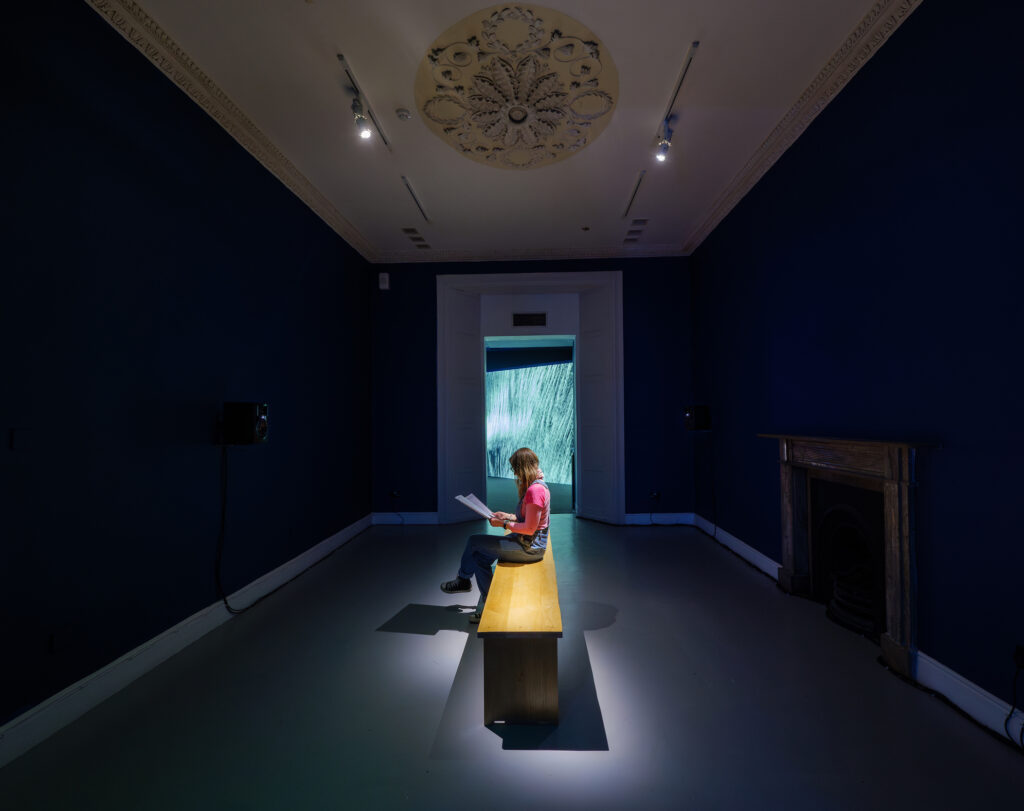 From where I was sitting in front of the screen with  the sub-titled dialogue, you could see this second screen outlined through a large door  frame and it very much reminded me of the monolith in 2001: A Space Odyssey (1968).  This was a a film that also offered the possibility of a new world. In the talk it was  mentioned how the constantly changing surface of water moves too fast for the camera to accurately capture so that you are left with a kind of abstract approximation (similar to  trying to understand the impulse and methods of an artist after the fact). There were other  audio channels of sound design and composition (nine in all) by regular collaborator Tyler Friedman (who was also in attendance for the opening talk) and as I've already stated this  was a key factor in the immersive experience of the work.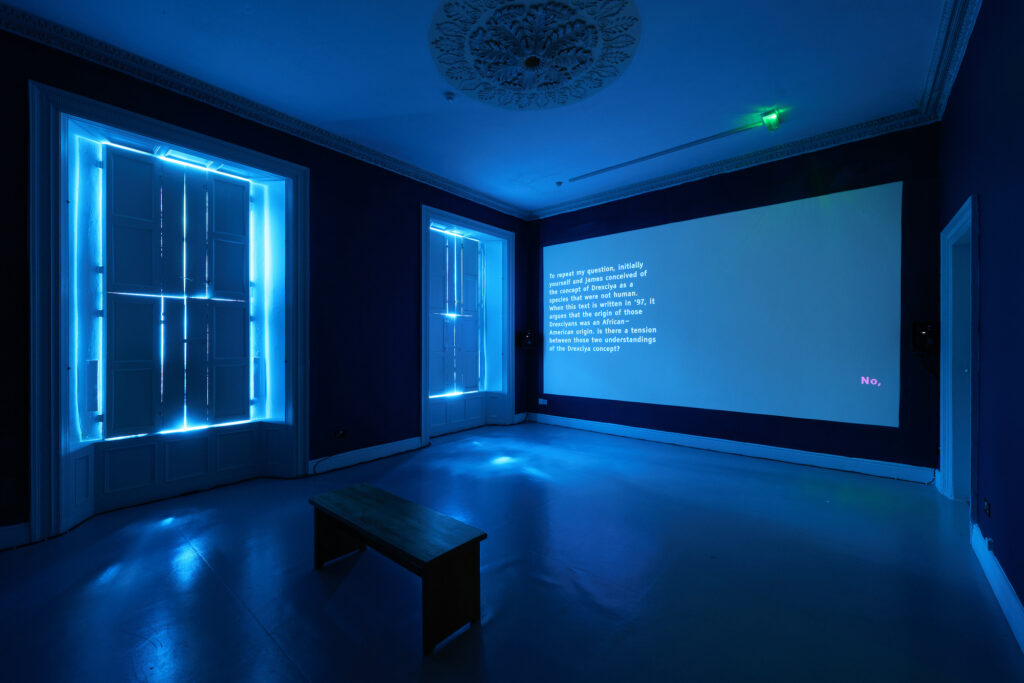 The music journalist in Eshun can't help himself when he asks about their proposed origin story in The Quest sleeve-notes and if he and Stinson were in agreement with UR's  interpretation. To give a little background, while Stinson never spoke out against it, in 1999 he referred to UR's role in the public's perception of them when he said to Tsutomu Noda  for an interview in Straight No Chaser, "Drexciya live in two different worlds, what Drexciya does and what UR asks it to do on certain missions". I had thought this need for a second world might even have been the impetus for their multi-dimensional concept to be added to the world of Drexciya but as Donald makes clear here, this was always a factor from the start.
Also, in their own later self-penned sleeve-notes for Grava 4, they themselves indicated an origin in space (the utopia of the Drexciyan Home Universe). After receiving  some clarifications and saying how "difficult" it is to explain, Donald reiterates that Drexciyans lived and came from another dimension and states that UR's origin story was  only ever a conjecture. However, he recognises that it was written by "African American  men" and from that perspective it is a fitting origin story and something for the "man on the  street" but that those on the inside have a "different view". He states that there would be  many possible origin stories for every dimension.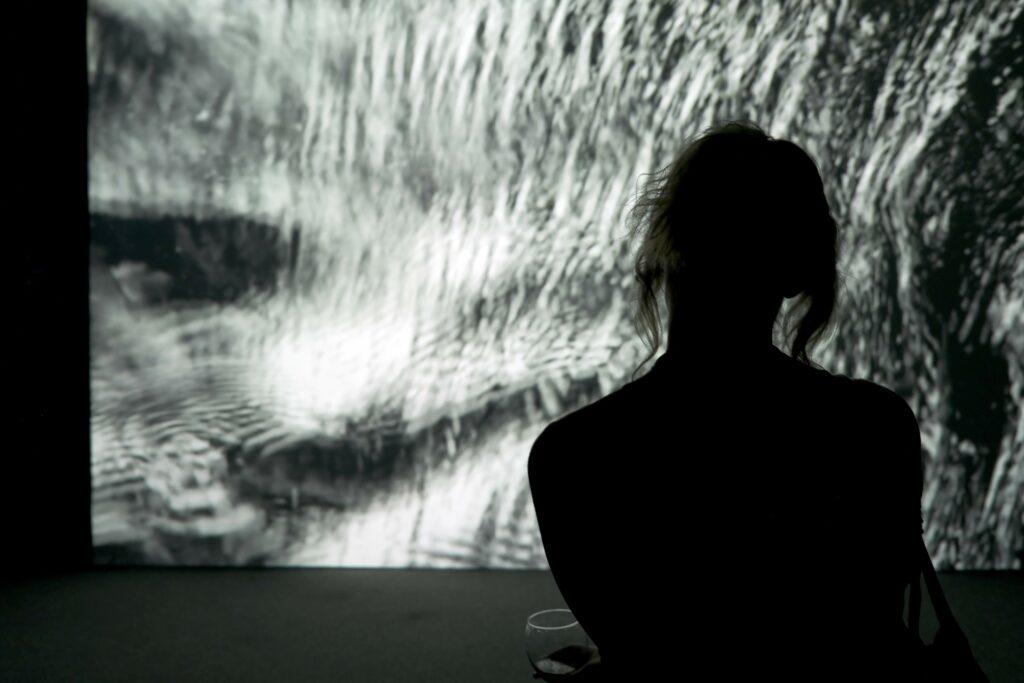 For me, the show is about how we build an imaginary world, which can potentially reach out to the real. Watching the latter film in particular made it feel okay to indulge in our own speculations, to think our own equally far out thought experiments. Our desire for an origin  story in this context, no matter where it might come from, makes it all seem more  complete. The inevitable back and forth between a group that wasn't giving too much away and their fans is also a big part of creating a myth/story around them (it's also half the fun  of it).
While there will definitely be some misconceptions, that is a risk they were willing to  take. In this case there was such a need from fans and their label UR for an origin story  that it had to be suggested at the very least. Were they conscious of using the public in  this way as a third mind? Once this powerful and emotive possibility was made however it  truly took on a life of its own beyond their control and I can't think of any other group that has gone on to so positively inspire so many fans as well as visual artists to respond in their own unique ways and there are no signs of this interest waning.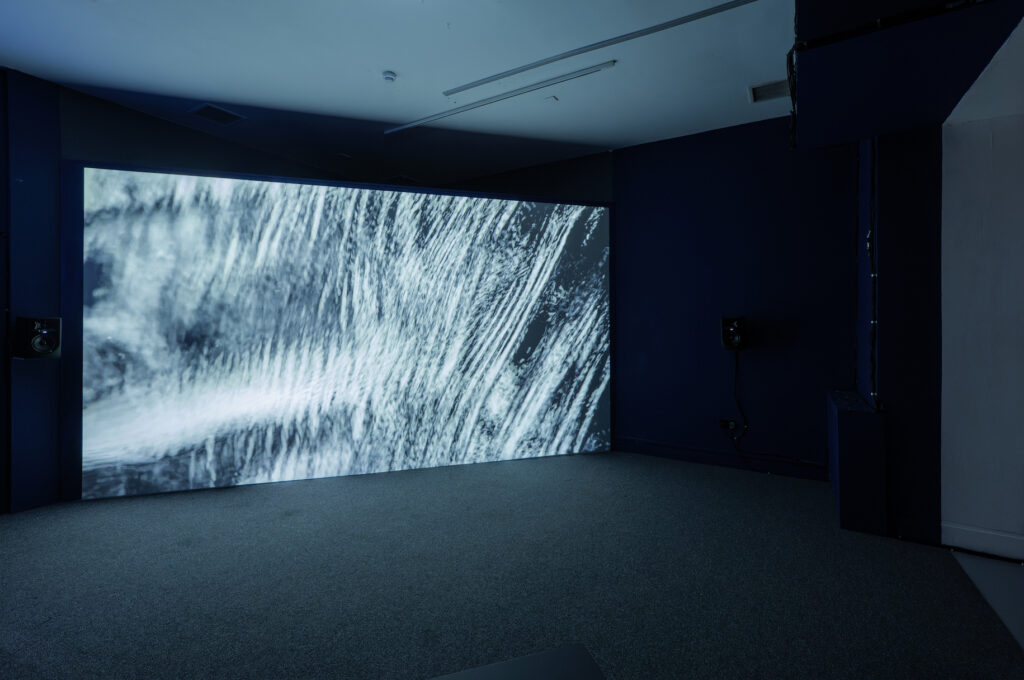 The Otolith Group show they very much understand the creative dynamic that is at work here and that it can lead to unexpected places; in the talk Eshun mentioned how the  Afrofuturusm of Drexciya and other contemporary artists has already been assimilated and commoditised in the global success of Hollywood's Black Panther/Wakanda franchise. This is fitting in a way as Mike Banks of UR has said he got the idea of Drexciya's liquid  breathing from another sci-fi movie The Abyss (1989). No matter how seemingly closed and personal our creative mythologies and actions are, once publicised to any degree they too have the potential to join a wider conversation of influence and in time can come to affect the way we see ourselves, and might even go on to reshape our world. I think the exhibition as a whole manages to illustrate those mechanisms very well and of course is part of that process itself. 

Since 2005 Stephen Rennicks has been writing about and around the subject of Drexciya and related projects on Drexciya Research Lab. He is also an artist, presents Time Travel on Dublin Digital Radio as well as running Abstract Analogue (music archive) and Searching for The White Room (an archive and information page relating to The KLF).
https://stephenrennicks.wordpress.com/
http://drexciyaresearchlab.blogspot.com/
https://abstractanalogue.tumblr.com/
https://www.facebook.com/searchingforthewhiteroom/
Film stills from Hydra Decapita (2012) by The Otolith Group are courtesy and copyright of the artists.
---