Event Details
Dates
29/03/2023 – 30/03/2023
Time
Wednesday 29th, 11.30am and 2pm
Thursday 30th, 7.30pm
Location
Galway Arts Centre | Nuns Island Theatre
Ticketing
€12 (support staff free)
Act 1: In Flow Gamelan Ensemble
Allow this twelve-piece ensemble to immerse you in the warm and exotic tones of the gamelan orchestra.
Following a successful run of performances as part of Galway Jazz Festival in 2019 the group have since been working on new material and integrating new members to the group. That's Life gamelan players with intellectual disability will play a selection of new original works, composed by the group in collaboration with Andrew Madec and Aengus Hackett, and play some traditional pieces from Java where the gamelan originates.
---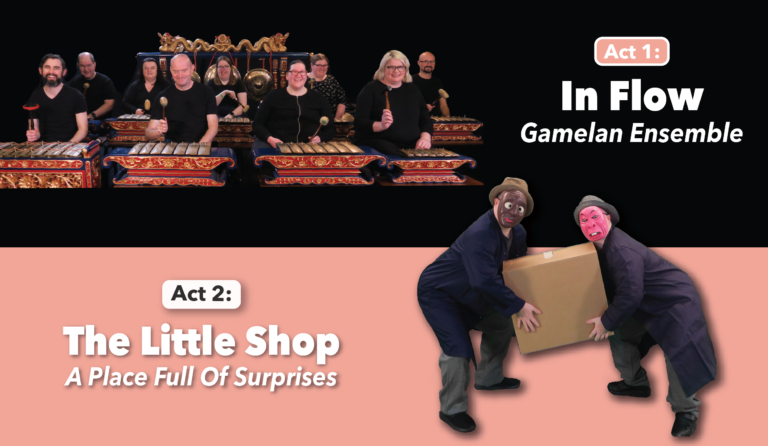 Act 2: The Little Shop
A place full of surprises where the mundane becomes magical.
Step into the world of the Little Shop, where ordinary events lead us in unexpected directions. The staff love to make fun more than work, instead they play with everyday objects to create imaginary worlds. You will never know what you are going to see, or where you will be taken, on this amazing and unpredictable journey of everyday life.
Join That's Life performers for their first public presentation of this work in progress. This playful show is a continuation of the Mask project (2020), researched by Miquel Barcelo. It uses mask and dynamic visual theatre techniques to explore poetical stories, which is inclusive and adapted for adults with intellectual disability. Directed and devised by Miquel Barcelo in collaboration with Imelda Reynolds (That's Life Arts Facilitator).
---