Event Details
Dates
16/07/2023 – 20/08/2023
Time
10:00 -17:00 Mondays to Saturdays
Location
Galway Arts Centre | 47 Dominick Street
Additional Info
Artists Talk on Sunday 16th July

Ruby Wallis – Whistling in the Dark
Whistling in the Dark at Galway Arts Centre is a major new exhibition of photography, collage, film, print and sound work by artist Ruby Wallis.
The practice is driven by a desire to transform the relationship we have to our own bodies, gender, safety, and public space. For Wallis, walking at night with a camera is an active embodiment and mode of subversion: a play between the real-vs-imagined, and a relation to the non-human and botanical world.
Whistling in the Dark shows a series of photographs, sound, and video installations drawn from a collaborative project with writer Phillina Sun, and their book, A Woman Walks Alone at Night, With a Camera, and new sound work created in collaboration with musician and composer Mike Smalle. These works are shown alongside recent works from Swarming which draw on photography, its history, and material forms.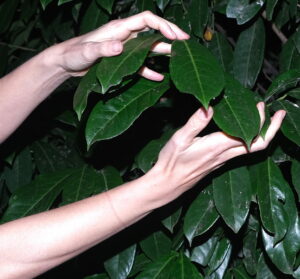 Using installation of collage, cyanotype and analogue prints, the artist responds to the aspects of the botanical world she finds within the walls of the Georgian architecture of Galway Arts Centre, the former city residence of Lady Augusta Gregory, the plants ornately embedded in its ceilings — acanthus leaves, palm leaves, thistles — and classical Greek symbols.
In a play between order and disorder, taxonomy and the organic, she finds more immediate signs of life and organisms in fungi, and the mould in the peeling paint of the gallery walls. 
This process draws on the eco-feminist thinking —  that humans, animals, plants, and other living entities can transform in their entwined relationships to one another and disrupt patriarchal systems of order and power. 
Whistling in the Dark is curated by Megs Morley for Galway Arts Centre as part of the Galway International Arts Festival 2023. 
Ruby Wallis is supported by Arts Council Ireland and Galway City Council Arts Office. 


---