Event Details
Dates
03/12/2022 – 22/12/2022
Location
Galway Arts Centre
Event Type
Exhibition, Performance,
Reverberate | Éireann and I
Galway Arts Centre's Artists in Residence 2022
3rd – 22nd December
Official Opening Saturday 3rd December from 2pm
Including live performance by Church and Wally Nkikita
(Free event, all welcome, no booking required)
Reverberate is an oral history project developed by Eireann and I, a black migrant community archive, in collaboration with members of Galway's African diaspora. The project invited Black migrants settled in Galway to recount their journeys to Ireland, their relationship with the city, and to reflect on whether they have developed a sense of belonging.
Reverberate documents the legacies of migration as they happen, giving narrative agency and equal centring to each perspective. The testimonies gathered here come from eight individuals of varying age and origin, whose stories touch on parenting, politics, the effects of the asylum system, and the communities and organisations they have built, among other topics.
The narrators share obvious commonalities but, in between each story is woven more implicit threads of connection that make evident the ways in which we are all affected by the same global and local tensions that cause people to leave where they are from and build new lives elsewhere.
This project consists of a series of radio broadcasts and a listening library and recording room installed in Galway Art Centre. By using oral history as a parallel to African storytelling tradition – which functions to pass past beliefs, counsel, morals, and myths down to new generations – we are seeking to challenge the fixedness of the archive, restructuring it as an active and living space that accommodates multiple voices, that responds, repeats, and echoes between places and perspective. One which invites others to add to the record too.
The listening library invites you to listen, read transcripts and other resources which connect and expand on the subjects shared by the participants. The Recording room is offered as an activation of the archive where you can enter to record your own oral history.
The seven recordings will be broadcasted on GOCOM radio, an ethnic minority interest community radio station, and Dublin Digital Radio (ddr) from 3rd – 22nd of December 2022. Shared online at eireannandiarchive.com. The accompanying programme includes live performance by Church and Wally Nkikita on 3rd December and workshop by Éireann and I: 'Retelling Migrant Stories' on 12th December.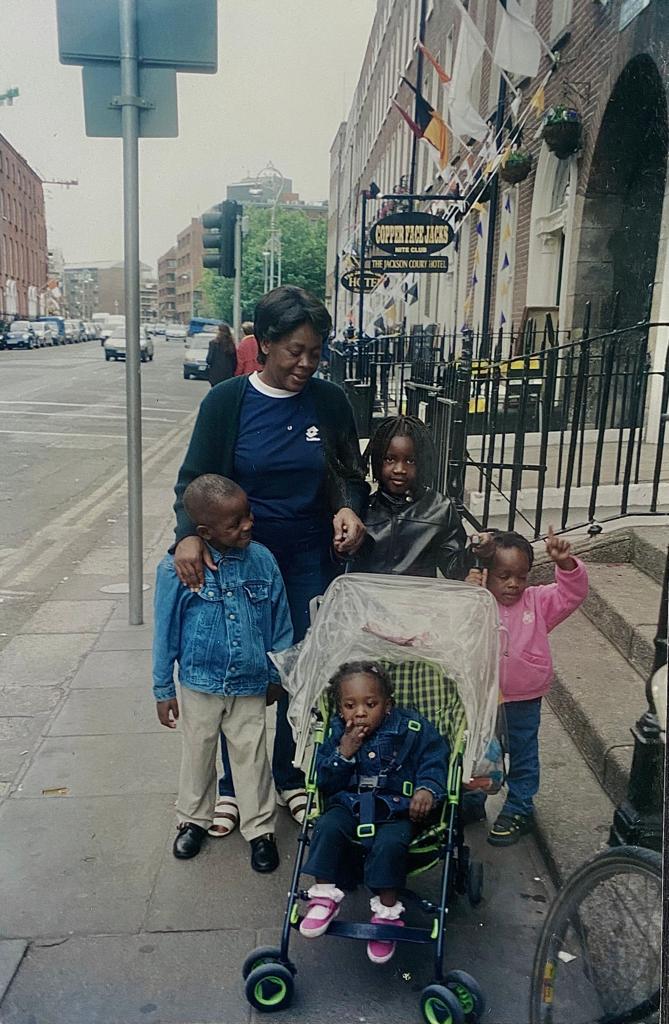 Éireann and I
Éireann and I is an online community archive consisting of found and donated material which document the lives of Black migrants in Ireland. Éireann and is also a migrant memory project, programming events and discussions about community archives, memory work, and agency and autonomy within the public record. It is co-developed by Beulah Ezeugo and Joselle Ntumba.
Beulah Ezeugo is an Igbo curator and researcher. Her work centres on Black postcolonial dreaming, using cultural memory and myth. Her practice is informed by a Social Science background from University College Dublin and an MLitt in Curatorial Practice from Glasgow School of Art and the University of Glasgow.
Joselle Ntumba is a cultural producer of Congolese heritage and was raised in Galway City. Her work centres on memory work and the archive as tools for community engagement. Alongside this, she has a background in health science from Trinity College Dublin.
This project is supported by Galway Arts Centre through its Artists in Residence programme 2022 and Galway International Arts Festival through its Elevate programme 2021. Thanks to GOCOM Radio for broadcasting the audio recordings, E The Artist (Daranijoh Sanni) for sound editing, the Galway African Diaspora Organisation and its co-founder, Wally Nkikita for platforming the archive and this project.
Most importantly, Reverberate was made possible by contributions from Esther, Noma Mapoma, Church, Wally Nkikita, Precious Martyn, Islammiyah Saudique-Kadejo, Benjamin Enow Oben, and Joselle Ntumba. Thank you for your trust.
Image credit: Ntumba Family walking By Copper Face Jacks, Harcourt Street, Dublin.
---