Event Details
Dates
18/02/2023 – 10/06/2023
Location
Áras na nGael, 45 Dominick Street Lower
A Space for our Voices
Galway Arts Centre's Red Bird Youth Collective, will launch an exhibition of radio and print work made with sound artist Anne Marie Deacy and print artist Aoife Barrett, which looks at mapping Galway City through the eyes of young people. The exhibition opens with a short introduction from the members and their collaborators as part of Cruinniú na nÓg 2023.
Red Bird will also broadcast live on the day from the theatre presenting a mix of live sounds and pre-recorded pieces live on Flirt FM.
The artist collective began collaborating with sound artist Anne Marie Deacy in September 2022 to create a sonic map of Galway City, which involved learning how to use recording devices, microphones and working with Paula Healy at Flirt FM to record their own radio show.
From February 2023, Red Bird have collaborated with printmaker Aoife Barrett to explore various print methods. In the run up to Cruinniú na nÓg 2023, Red Bird have worked with both of collaborators to plan an exhibition and live broadcast.
---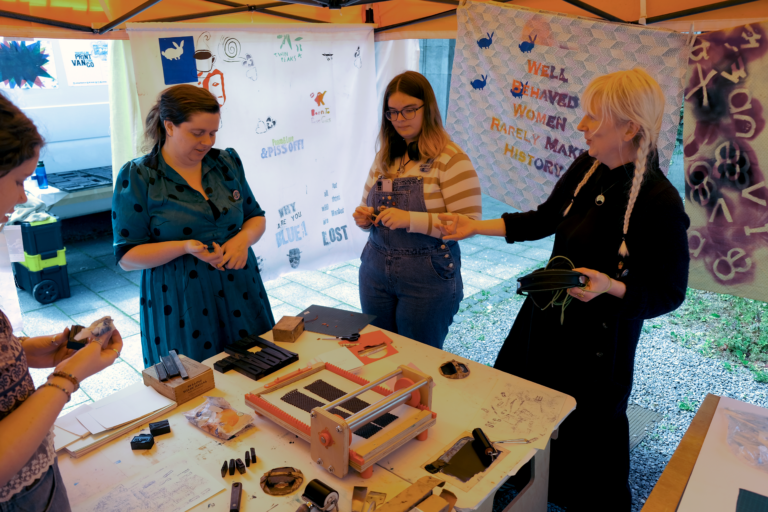 Red Bird Youth Collective
Red Bird Youth Collective is an artist collective for likeminded young people from different backgrounds who collaborate on engaging art projects with some of Ireland's leading professional artists.
Red Bird members gain experience in event management, curation, administration and artistic development. Participants learn what it is like to be a professional visual artist working in Ireland today.
New members are welcome to join  in September 2023. No previous experience is necessary.
If you would like to join Red Bird Youth Collective, you can submit a registration form, or if you would like more information you can contact youtharts@galwayartscentre.ie.
---