Event Details
Dates
17/07/2023 – 30/07/2023
Duration
1 hour approx. No interval
Location
Galway Arts Centre | Nuns Island Theatre
Ticketing
€23-€25 from www.giaf.ie
Additional Info
Previews 14 and 15 July, 8pm
Matinees Saturday 22 and 29 July, 2pm
No show Sunday 23 July
Decadent and Galway Arts Centre present Every Brilliant Thing by Duncan MacMillan [with Jonny Donahoe]
A child creates a list of things worth living for, in an attempt to raise the spirits of their chronically depressed mother.
You're six years old. Mum's in hospital. Dad says she's "done something stupid". She finds it hard to be happy. So you start to make a list of everything that's brilliant about the world. Everything that's worth living for:
1. Ice-cream.
2. Kung Fu movies.
3. Burning things.
4. Laughing so hard you shoot milk out your nose.
5. Rollercoasters.
6. Me.
You leave it on her pillow. You know she's read it because she's corrected your spelling. Soon the list will take on a life of its own.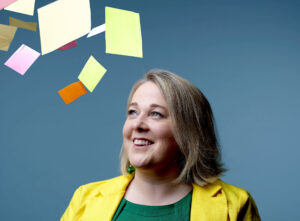 Clare Barrett stars in this new production of Duncan MacMillan's worldwide smash hit play about depression and the lengths we go to for those we love. Jump in and be part of the creative experience as the audience help tell this poignant and hilarious story. Every Brilliant Thing is directed by Andrew Flynn.
'A heart-wrenching, hilarious play.'  The Guardian
Every Brilliant Thing runs at Galway Arts Centre's Nun's Island Theatre from July 17 to 30 at 8pm, with previews (July 14 and 15, 8pm) and matinees (July 22 and 29, 2pm). There will be no show on Sunday July 23.
Tickets are available HERE
---